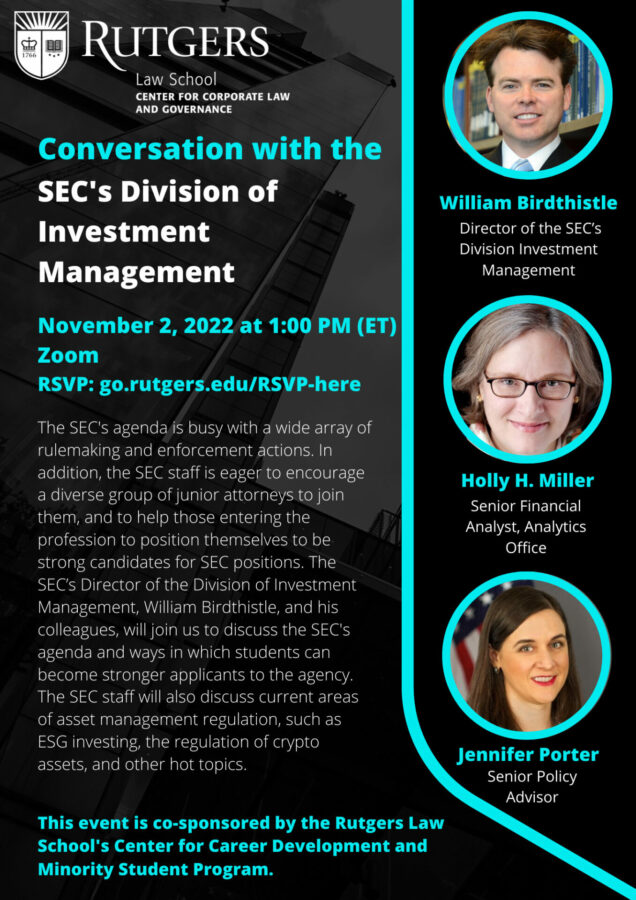 November 2, 2022 at 1:00 PM (ET)
Zoom
RSVP to attend.
The SEC's agenda is busy with a wide array of rulemaking and enforcement actions. In addition, the SEC staff is eager to encourage a diverse group of junior attorneys to join them, and to help those entering the profession to position themselves to be strong candidates for SEC positions. The SEC's Director of the Division of Investment Management, William Birdthistle, and his colleagues, will join us to discuss the SEC's agenda and ways in which students can become stronger applicants to the agency. The SEC staff will also discuss current areas of asset management regulation, such as ESG investing, the regulation of crypto assets, and other hot topics.
Featuring:
William Birdthistle, Director of the SEC's Division Investment Management
Holly H. Miller, Senior Financial Analyst, Analytics Office
Jennifer Porter, Senior Policy Advisor
This event is hosted by the Rutgers Center for Corporate Law and Governance and co-sponsored by the Rutgers Law School's Center for Career Development and Minority Student Program.