Fourth Annual Corporate Compliance Institute
Fourth Annual Corporate Compliance Institute
Friday, April 12, 2019 │ 8:00 a.m. to 3:00 p.m.
Reception to Follow
Rutgers Law School, Camden, NJ — 5 minutes from Center City Philadelphia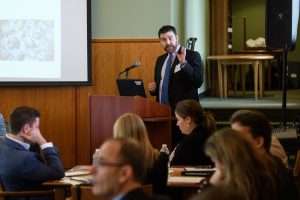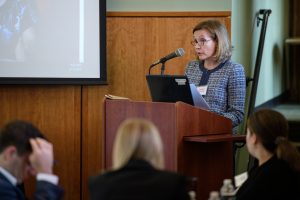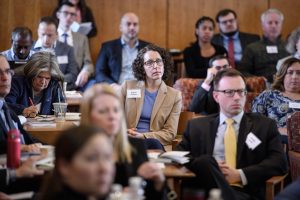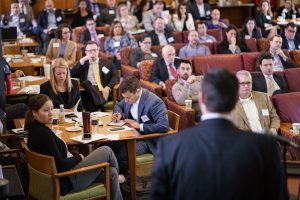 8:00 Breakfast
8:45 Welcome
9-9:30 – Introductory Remarks by Hui Chen, Former Compliance Counsel Expert for the U.S. Department of Justice Fraud Section
9:30-10:45 Panel #1: Recent Trends in Corporate Compliance (trade sanctions, antitrust, and immigration)
– Elizabeth Piotrowski, Federal Trade Commission
– Manuela Morais, Law Offices of Manuela Morais
– Bryan Early, University of Albany
– Moderator: Hui Chen
This panel will examine topics that are emerging, or re-emerging, as key areas of focus for compliance personnel. These topics include renewed enforcement regarding trade sanctions, competition law, and immigration. Our panelists will discuss emerging trends within these areas and how to incorporate evolving risks into an effective compliance program.
11:00-12:15 Panel #2: Data Governance, Stewardship, and Privacy
– Sean McDonald, Frontline SMS and Stanford Digital Civil Society Lab
– David Allen, Oracle
– Jeffrey Rosenthal, Blank Rome LLP
– Moderator: David Wishnick, University of Pennsylvania Law School
Cybersecurity and privacy risks have been at the forefront of many compliance programs in recent years. This panel will take a broader view of data by situating cybersecurity and privacy in the context of a firm's overall approach to data governance. How should a firm think holistically about its data governance and compliance policies? The panelists will examine the responsible use of data, proactive compliance policies to prevent security breaches, international issues (including data on foreign customers, or data that crosses national boundaries), and the ethics around the use of customer information.
12:15-1:30 Lunch & Keynote Speaker
Eugene Soltes, Harvard Business School Professor and author of Why They Do It: Inside the Mind of the White Collar Criminal
1:30 – 3:00 Breakout Sessions
Two breakout sessions, one focused on healthcare compliance and the other on financial services compliance, will provide an opportunity for a conversation between and among attendees on industry-specific topics of concern. The session co-facilitators will have tentative topics to highlight, but these sessions are meant to be highly interactive and we encourage all participants to share their views and concerns.
• Health Care & the Pharmaceutical Industry: Current Topics in Compliance
Co-sponsored by the HealthCare Institute of New Jersey
– Tony Pozos, Drinker Biddle & Reath LLP
– Sally Molloy, U.S. Department of Justice
• Financial Services & Securities: Current Topics in Compliance
– Todd Cipperman, Cipperman Compliance
– Joan Heminway, University of Tennessee
3:00 – 4:00 Reception
The event is free and open to the public. Please register below.
CLE credit is available for a fee. To register for CLE, visit rutgerscle.com
For questions about the Institute or the registration process, please contact Carol Shaner at carol.shaner@law.rutgers.edu.