Thriving Careers for Women in Corporate Law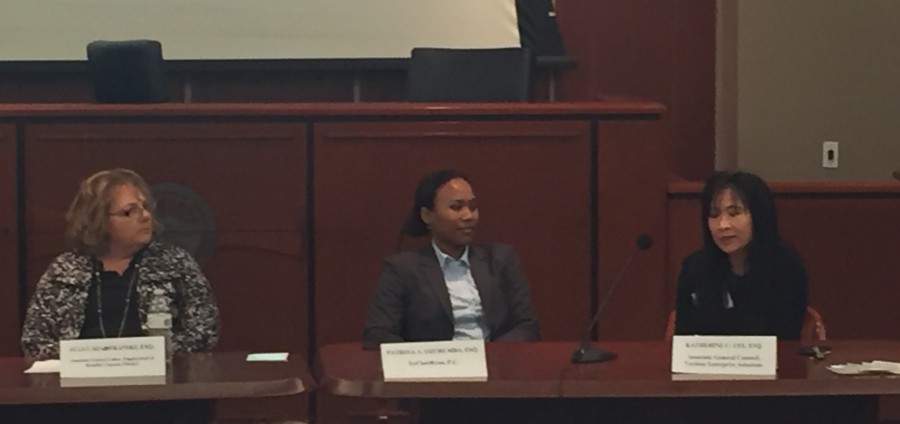 Susan Szanfranski, Patrina Ozurumba, Katherine Lee (l to r)
Rutgers Law School students and alumni attended a panel discussion on Jan. 21, from 4 to 6 p.m. at Rutgers Law School in Newark.
The panel, which was presented by the Rutgers Center for Corporate Law and Governance, Women's Law Forum, Rutgers Center for Gender & Sexuality Law and Policy, and LeClairRyan, featured a number of experts representing several areas of corporate law. They addressed both corporate challenges and opportunities.
The guest speakers included:
Kerry Flynn, Vice President, Securities Division Compliance, Goldman Sachs & Co., NLAW'03
Amanda Johnson, Senior Counsel and Assistant Corporate Secretary, Public Service Electric & Gas (PSE&G), NLAW'11
Katherine C. Lee, Associate General Counsel, Verizon Enterprise Solutions, NLAW'90
Patrina A. Ozurumba, LeClairRyan, P.C., NLAW'13
Susan Szanfranski, Associate General Labor, Employment & Benefits Counsel, PSE&G
Moderator:
Sarah Dadush, Assistant Professor of Law, Rutgers Law School
Students in Camden attended the panel via teleconference. The panel discussion was followed by a networking reception in Newark.
Thursday, January 21, 2016
4:00 – 6:00 PM
Nathan H. Baker Trial Courtroom, Room 125
Rutgers Law School
Center for Law and Justice
123 Washington Street
Newark, NJ 07102